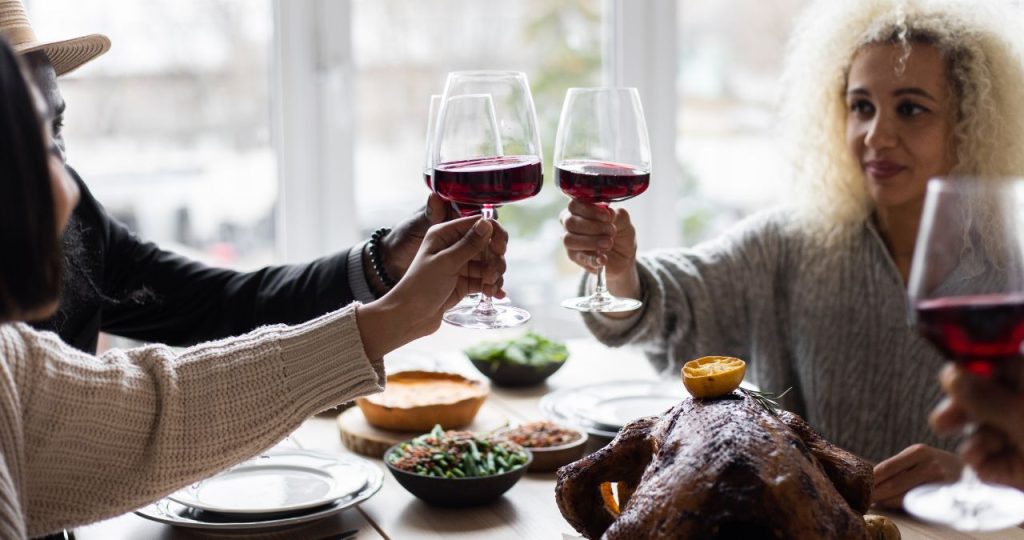 When it comes to planning for Thanksgiving feasts, the turkey and the trimmings (and of course, the desserts) get all the attention. While that's obviously understandable, there's something else that should receive some attention, too: your beverage menu! From boozy creations to light spritzers, as well as tasty alcohol-free recipes, here's a look at some popular Thanksgiving beverages that will be sure to spread good cheer amongst all of your guests.
The Most Popular Thanksgiving Cocktails and Other Drinks
Thanksgiving Beverage Ideas
Get ready to lift your glass and quench your thirst with these festive, popular Thanksgiving beverages.
Apple Cider Sangria
Guests ages 21 and over will be sure to enjoy this adult spin on apple cider. Apple Cider Sangria is fruity, yet spicy, and has just the right amount of fizz, making it the perfect cocktail for a Thanksgiving celebration.
Apple Cider Sangria Ingredients include:
Apple cider
Brandy
Freshly squeezed oranges or clementine
Freshly squeezed lemon juice
Orange bitters
Fresh ginger, peeled and thinly sliced
Clementine slices
Apples (Honeycrisp or McIntosh would be perfect, though any variety would work)
Prosecco or any other dry sparkling wine
Pomegranate seed garnish
Hot Spiced Cranberry Beverage
The rosy color will look lovely set against the backdrop of your dinner table and the spicy flavoring will delight your taste buds. The hot spiced cranberry beverage gets its kick from an unexpected ingredient: Red Hot candies!
To make the Hot Spice Cranberry drink, you'll need the following ingredients:
Hot water
Sugar
Cranberry juice
Fresh lemon juice
Fresh orange juice
Red Hot candies
Bubbly Champagne Punch
Add a touch of elegance to your Thanksgiving festivities with this Bubbly Champagne Punch.
To make this adult-friendly libation, you'll need:
Fresh or frozen cranberries
Orange slices
Unsweetened pineapple juice
Ginger ale
Chilled brut champagne
Chilled sweet white wine
Thawed frozen lemonade concentrate
Slow Cooker Hot Chocolate
Guests of all ages will love sipping on this Slow Cooker Hot Chocolate with their dessert. Just make sure you start making it about two hours before you plan on serving so that it's ready!
Slow Cooker Hot Chocolate ingredients include the following:
Whole or reduced-fat regular milk, or for an alternative, opt for a creamy oat milk
Chocolate chips
Heavy whipping cream
Sweetened condensed milk
Organic, all-natural vanilla extract
Just add all of the ingredients together in your slow cooker, and cook on a low setting, stirring occasionally, until the chocolate is completely melted and smooth. Top with fresh whipped cream. Delicious!
Pear Brandy Sidecar
This Pear Brandy Sidecar offers the flavor of the sweetest, ripest, most delicious pear you've ever tasted – with a little kick!
For the adult-friendly Pear Brandy Sidecar beverage, you will need the following ingredients:
Pear brandy
Fresh lemon juice
Simple syrup
Pear nectar
Bourbon-Pumpkin Milk Punch
Made of bourbon, pumpkin pie-flavored syrup, nutmeg, vanilla extract, and half-and-half, this libation could totally be served in lieu of dessert. Who are we kidding? Serve it in addition to dessert!
To make the Bourbon-Pumpkin Milk Punch, you'll need the following ingredients:
Half-and-half
Bourbon whiskey of your choice
Pumpkin pie-flavored syrup (Torani is perfect!)
Organic, all-natural vanilla extract
Ground nutmeg
Other Popular Thanksgiving Beverages to Consider This Holiday Season
Red wine – Pinot Noir (regarded as the classic Thanksgiving wine)
Moscow Mules – vodka, ginger beer, lime juice
Hot Toddy – whiskey, honey, lemon juice, cinnamon (stick)
What can Fortress Nutrition LLC do for you?
Rest assured that you're in good hands with Fortress Nutrition. To learn more about how we tailor our blending, ingredient sourcing, logistics, consumer packaging, and other services to meet customer needs, and find out how we can partner with you to ensure compliance with new GMO laws, contact us today.